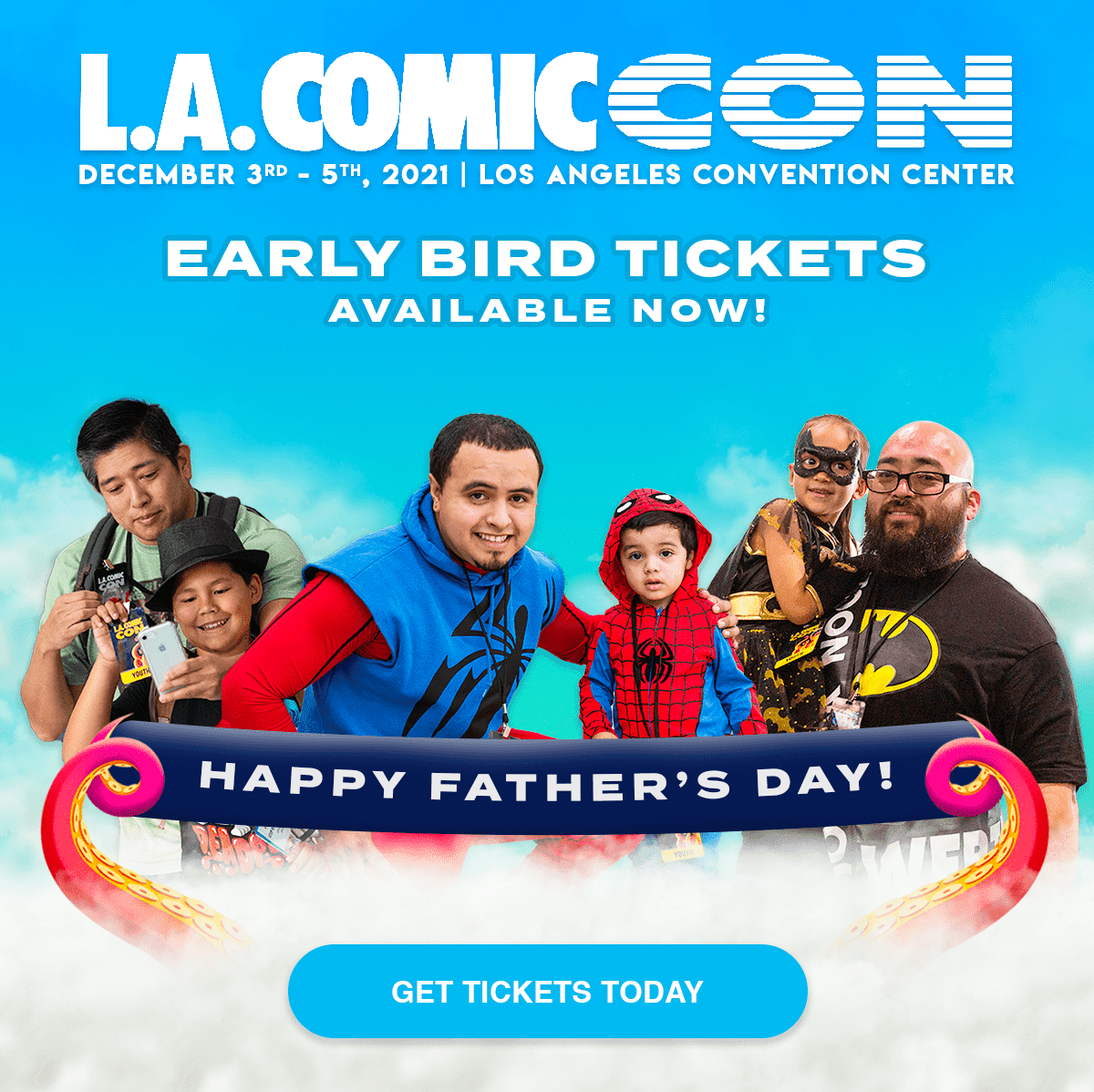 Los Angeles!
Early-Bird 3-Session and VIP tickets are still available, but they're selling fast!
With Father's Day just around the corner, what better way to show Dad some love than with a pass to L.A. Comic Con?! Kids 6 and under are free, so you can spend quality time with the family and share your favorite parts of pop culture with the people that matter most. Now is the best time to buy tickets!

Please note: Anticipated maximum capacity limits at the LA Convention Center have reduced the number of tickets available — Securing your pass now is the only way to guarantee a 3-Session Pass for Los Angeles Con 2021!

Give the Gift of Comic Con this Father's Day!
If you're looking for a gift idea this Sunday, why not take Dad on an adventure? Grab discounted Early-Bird tickets before Sunday and you'll have the option to send Dad a personalized Father's Day greeting to his email. So why not make memories with Dad this year and do something that you'll both enjoy!

See Bruce Campbell & SO MUCH MORE this December!

Groovy! We're excited to announce that Bruce Campbell was just added to the 2021 guest lineup!
Bruce is a storied actor, director, and voice-actor who has touched almost every sector of pop culture over his impressive career. You may know him from his roles in Sam Raimi's Evil Dead franchise, voice-acting in the Spiderman games, Call of Duty, Sam Axe in Burn Notice, and the list keeps on going!
Bruce will be joining us Saturday for autographs, photo ops and a panel!
Keep an eye out on our social media for more guest announcements leading up L.A. Comic Con in December!
TOM KENNY
Tom Kenny the voice of SpongeBob SquarePants, Heffer Wolfe in Rocko's Modern Life; the Ice King in Adventure Time, and so much more, is coming back at L.A. Comic Con!

GIANCARLO ESPOSITO
Breaking Bad, Better Call Saul, The Mandolorian, and The Boys! We don't know what he'll do next, but we're excited to announce that he's coming to L.A. Comic Con!

ZACHARY LEVI
Zachary Levi is coming to L.A. Comic Con! You might recognize him as Chuck, a handsome vigilante in Tangled, or most recently a teenager turned superhero, Shazam!

TOM WELLING
Tom Welling, best known for his role as Clark Kent from Smallville and Lt. Marcus Pierce from Lucifer is appearing on Saturday and Sunday of L.A. Comic Con!

FRANK MILLER
Comic legend and icon Frank Miller, known for Sin City, Batman: The Dark Knight, Batman: Year One, 300, Daredevil, Ronin, Robocop, Hardboiled, Wolverine and so much more is coming Saturday to L.A. Comic Con!

MY HERO ACADEMIA
Class is in session at the academy and the cast is coming to L.A. Comic Con! Join the voice-actors as they discuss favorite parts of the series and reflect on the beloved anime.

Each day our show will be broken into two 5-hour long sessions. If you purchase the 3-Session or VIP Pass, you can choose ANY THREE SESSIONS BELOW to attend! You will be given your choice of sessions closer to the show, after more of the talent line-up is announced. If you buy a ticket now, you cannot be affected by potential sell-outs for any of the sessions.