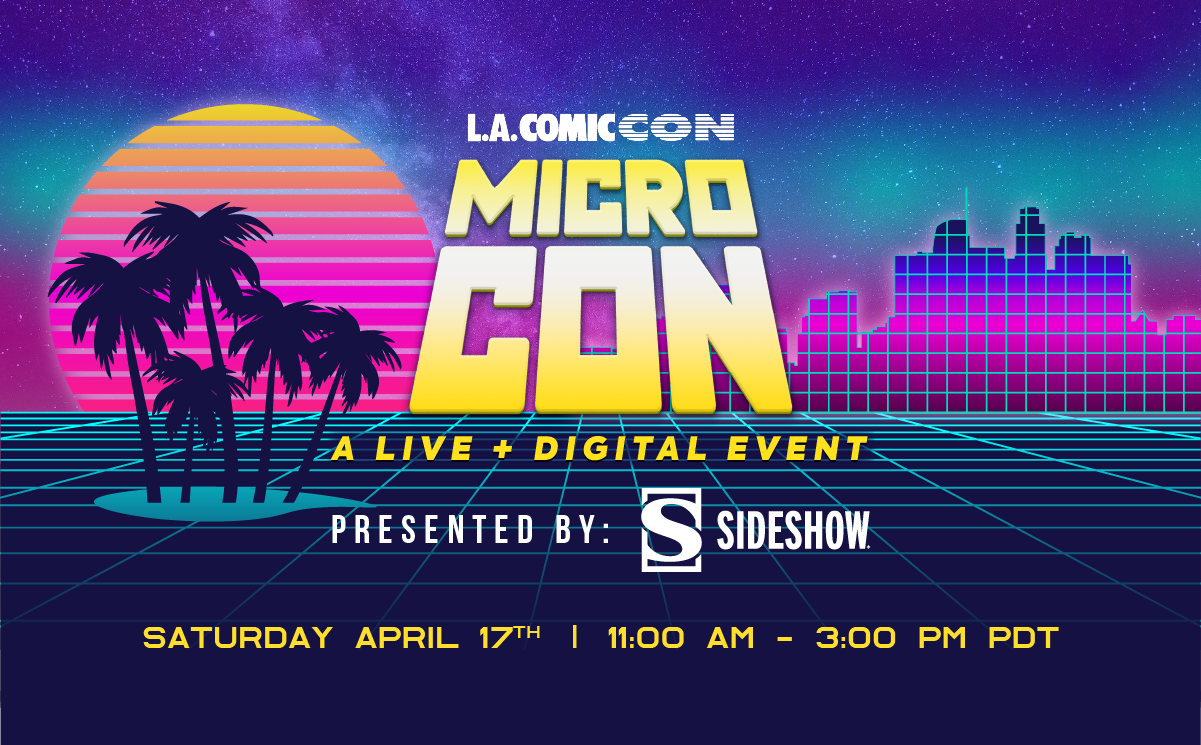 MICRO CON IS TOMORROW AT 11:00 AM (PDT)!
VIP and Digital Meet + Greets are almost sold out!
General Admission and All Access still available!
Every Micro Con ticket purchased includes a $15 Sideshow promo code!** and a digital wallet with NFT(s). That means, if you purchase a GA ticket, the ticket practically pays for itself!

Every ticket comes with...
4 HOURS OF EXCLUSIVE LIVE CONTENT
NFT(s) COME WITH EVERY TICKET

Every ticket or meet + greet purchased for the event and/or digital meet + greets earns one of the five NFTs
Starting Saturday, you can earn an additional NFT at the Superfan Mall!*
Your best chance to own from NFTs this limited collection is by purchasing a ticket to tomorrow's show. You might not get another opportunity to get started in the world of digital currency and build your portfolio!
MEET + GREETS ARE ALMOST GONE!
All meet + greet packages are still available, but they're going fast!
Featuring stars from titles such as X-Men: The Animated Series, My Hero Academia, Star Trek, True Blood, Mighty Morphin Power Rangers, The Office, Gotham, Starship Troopers, and more!
All times displayed in Pacific Daylight Time (PDT)
Sideshow is the premiere destination for high-end statues, figures, art, prop replicas, and collectibles inspired by pop culture. Their fully-licensed products feature characters from the realms of Marvel, Disney, DC, Warner Bros., and Lucasfilm, among others.
This Saturday, April 17th, Micro Con will be joining Sideshow from InCrowd Studios for a series of virtual booth tours throughout the day, giving fans a up-close and high-definition look at some of the latest creations from Sideshow and their partners.
The Booth Tours will focus on Sideshow HQ featuring new and upcoming collectibles from fan favorite pop culture worlds – including Star Wars™, Marvel, DC, Masters of the Universe, Power Rangers, and more!
AND, watch Titus Welliver, who you might recognize from Star Wars: The Mandalorian join in on a Sideshow booth tour! Last but not least, a special interview with the creative team behind Hulu's Crossing Swords show!
Every Micro Con ticket purchased includes a $15 Sideshow promo code!** That means if you purchase a GA ticket, the ticket practically pays for itself!

SHOP THE SUPERFAN MALL TO COLLECT ANOTHER NFT!
Create an account or complete a purchase in the Superfan Mall to collect another NFT!
Shop the mall floors to discover unique vendors, exclusive products, and get the con-floor experience you've been craving! If you own a set of VR goggles, try them out while shopping to take your shopping experience to the next level!
Shop the vendors and explore to earn another collectible NFT!*
*Each GA ticket, Meet + Greet, account creation or purchase within the Superfan Mall= 1 NFT
Each VIP ticket= 2 NFTs
All Access ticket= 3 NFTs
NFTs earned will be selected at random, so duplicates may be included.

NFTs will be deposited in a digital wallet to the purchaser on April 19th.

**Your purchase of a ticket to Micro Con 2021 includes $15 off Sideshow.com. Redemption of your discount to Sideshow can begin 48 hours after you've received your confirmed ticket purchase to Micro Con 2021. At the 48 hour mark, simply find your Order ID* in your Micro Con 2021 ticket purchase confirmation email and use it as your promo code toward an eligible purchase through Sideshow.com. Further details on promo code redemption and commonly asked questions can be found at Sideshow.com